Posted by mimada on August 14, 2013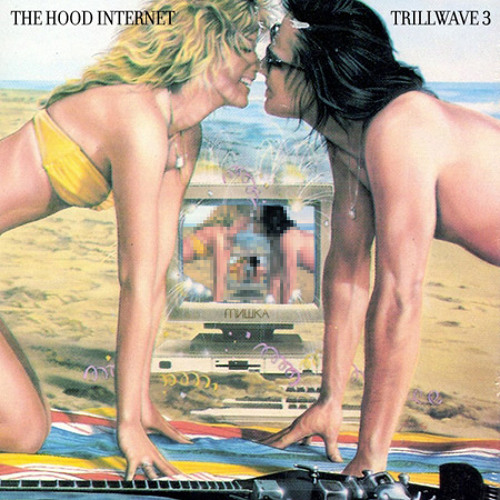 Ahhhhhhh could not be more excited to share the latest release from The Hood Internet. So they've got this thing called Trillwave, which is basically a seamless, sensual, and poetic synthesis of popular hip hop vocals over chill, indie instrumental counterparts that make you wonder, Why weren't these jams paired up before…? And the third installment of Trillwaves does not disappoint. MISHKA really hit the nail on the head by describing Trillwave as the type of mixtape for "when you have to entertain a mixed crowd, or if you need to take a long drive with someone who doesn't worship at a temple for 808s for church bells." And, in accordance with the rising trend, Trillwave 3 features quite a few subtle tributes to the sweet and sexy R&B of the 90's. Oh, radical baby.
You can, and absolutely should, download the previous Trillwaves straight from The Hood Internet's website here. And catch the tracklist after the break, especially my favorite pairings including Kanye West vs Daft Punk, Miguel vs RL Grime and Kendrick, Drake, and Giraffage.
LIVE FOR THE TRILL.
FACEBOOK || SOUNDCLOUD || TWITTER
Posted by W8 on March 20, 2013
This dark melancholy of love is Shlohmo and Jeremih's first official collaboration. Both lead, and or rather invented a new sub-genre that can only be described as a lo-fi branch of Rnb. The mergence of the two talents combining forces certainly marks some next level sh#t. A video after the jump sheds light on their new collaborative vision together.
FREE DOWNLOAD: Shlohmo ft. Jeremih – Bo Peep (Do U Right)
DO SOMETHING
Posted by Grubeats on January 4, 2013
[do action="youtube" videoid="Ph6OqutiPC8″/]
Mr. Right, it's been a minute, welcome back sir.  "I Luv The Way You Taste", which is receiving West Coast air time as we speak, marks the first single off Azad's upcoming project.  Despite the suggestively provocative cover art that you may or may not have noticed just yet, Azad insists it's not as vulgar as one may expect.  Haha.  All I'll say is that I wouldn't suggest sharing this with your pre-teen siblings.  With a full plate in 2013 (no pun intended), Azad will surely be turning even more heads than he has in the past couple years.  Expect some BIG records from this L.A. sushi connoisseur.
Free Download: Azad Right – I Luv The Way You Taste (Prod. by Shlohmo)