Posted by Matt Keene on September 15, 2017
MK. What a legend. The guy just dropped "17" and it's straight quality, just like we expected. "17" is one of those tracks that you listen to with the windows rolled during the golden hour on the 101 trying to get home Friday rush hour. It's a stellar track that grows on you the more you listen. It's one of those pop a pacifico by the pool while you grill out with your mates and your main check (while your side-chick texts you). If you haven't heard "17" you need to smash that play button courtesy of Selected.
Be sure to put this bad boy in your Spotify playlist.
Posted by Juicebox on April 19, 2016
Facebook | Soundcloud | Twitter
It's here…it's finally here! After spending weeks slowly leaking out headliners before unveiling the first and second phases of its lineup, Mysteryland USA has just unveiled the entire thing, and it's an absolute monster. The New York-based festival has always been known for stepping out of the box when it comes to its musical programming, and this year is no different, as the headliners, Skrillex, Bassnectar, and ODESZA, are joined by some of the underground scene's biggest stars in Joris Voorn, MK, Mikey Lion, Deep Jesus amongst others. Not only did Mysteryland unveil its world-class lineup, but the festival also announced the return of its prominent speaker series and famed Healing Garden. Those looking for something else at Mysteryland this year need to look no further than the brand new comedy tent hosted by Kyle Mooney. You can take a peep at Mysteryland's massive lineup below the jump, and make sure to get tickets to the festival here, as $10 of the purchase will go towards providing clean water to the Newark Public School System.
Posted by GMONEY on May 22, 2015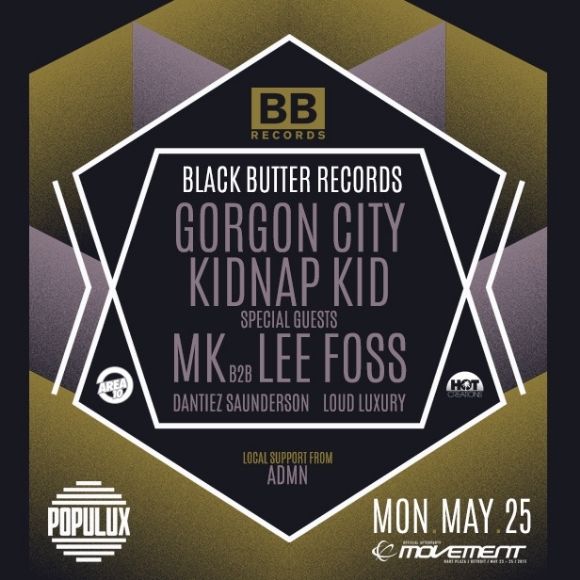 Facebook | SoundCloud | Twitter
This coming Monday, Black Butter will be making their first official foray in the birthplace of techno, Detroit, with its party on Monday, May 25th at Populux, where Gorgon City, Kidnap Kid, MK b2b Lee Foss, Dantiez Saunderson, Loud Luxury, and Admn will all be gracing the decks. For a UK label, the significance of this is very special as it is a time to prove themselves in a place where dance music roots run deep, and fans are well educated in underground spheres and beyond. Rather than Black Butter's Detroit showcase being thought of as a judgement day of sorts, it's more of a display of artistry that can be enjoyed by the masses. In celebration of the party, we've put together a showcase to highlight the top talent that will be guiding the Populux crowd to underground dance music enlightenment. Check it out below and grab tickets to the party here.
• Gorgon City
• Kidnap Kid
• MK
• Lee Foss
• Dantiez Saunderson
• Loud Luxury
• ADMN
Hear more from each artist after the jump!
READ ON >>
DO SOMETHING