Posted by Grubeats on April 1, 2014
It takes a lot to wake me a fallen blogstar up from his blog coma.  This my friends, is one exception.   Let me preface…
I'm sitting at my desk, dropping panties with my Excel wizardry, smashing through some emails while simultaneously scrolling through some blogs looking for new beats to feed my ears through the end of the work day.  Some solid tunes along the way, but nothing too face melting for a Tuesday.  Earlier in the morning I was scrolling through Twitter when I saw this tweet from LBJ;
I will be coming out with my mixtape April 16th. Feature on it Jay-Z, Drake, Ross, Meek, Juicy J, Kendrick, Snoop, and many more. "King Me"

— LeBron James (@KingJames) April 1, 2014
Joke, right?  The last thing Lebron James should be doing is rapping.  My initial thought was that Lebron was "hosting" a mixtape (in other words slapping his name on it for some seamless promotion), with "features" (meaning guest tracks) from Jay-Z, Drake, Kendrick, etc. Wrong.  WRONG WRONG WRONG, GRUBE.  Four hours later and my ears are literally listening to Lebron rap – my ears.  For those who saw the Jimmy Fallon x Lebron skit know why this news is so disturbing.  I feel violated.
Lebron opens up his "F*ckWithMeYouKnowIGotIt" freestyle with an impression of Bun B, I think?  Lebron, haven't you learned anything from your predecessors?  A.I., Ron Artest, Shaq, Kobe, Tony Parker, Chris Webber, the list goes on, bro.  You're trying to be the best ever and you're dropping corny raps like this?  You're already one of the most hated players in the NBA from your circus act of a departure from Cleveland to your broken face "incident" earlier this year.  If anything, be like KD and stay under the radar producing.  For the sake of the NBA and more importantly humanity, please do us all a favor and never pick up a mic again.  Ever.  Did Jordan ever rap?  Stupid question.  Sorry Lebron, you can keep rapping about your "2 RINGS" in your 2 Chainz voice, while Bill Russell laughs at your antics while sipping a bourbon browsing Amazon for a ceramic hand to hold his 11th ring.  Don't worry though…
"Shots are bright, I got a tan, killa'"
#RAPGAMEPUTAMUZZLEONTHiSCLOWN
Posted by mimada on July 23, 2013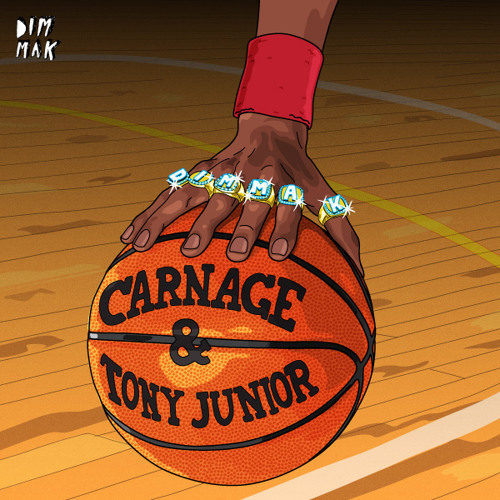 The latest release by Carnage proves that he is mercilessly conquering the festival house game. "Michael Jordan," a collaboration with Dutch DJ Tony Junior, is already a raging hit that has spread like fire across the board. Even prior to it's release though, the track was already pretty ubiquitous, packing heat in big name sets such as Martin Solveig, R3hab and Steve Aoki. Now my social media feeds are filled with "Michael Jordans," a new sort of Harlem Shake where you just gotta get as pumped as possible when the beat drops.
"When we were testing out the track, people jumped like crazy on it, so we thought about someone that could jump really high," claims Tony Junior, according to Billboard. "Then Carnage said, 'Let's call it 'Michael Jordan!' And the name was born."
So there you have it. Now everybody get up, it's time to slam. 
"Michael Jordan" is available for purchase via Beatport
 FACEBOOK || SOUNDCLOUD || TWITTER
DO SOMETHING