Posted by GMONEY on May 22, 2015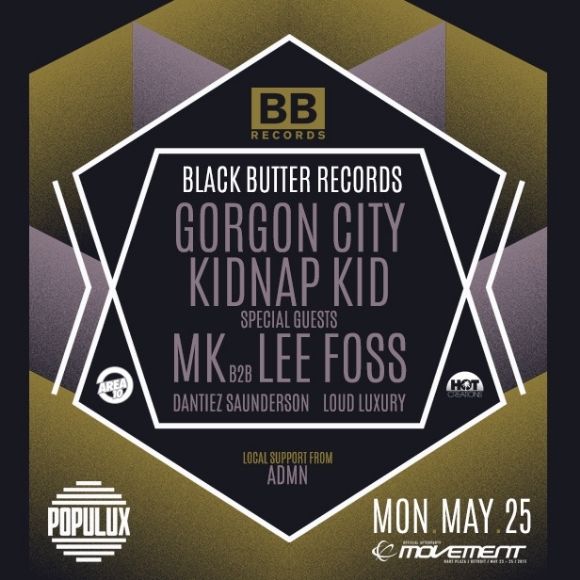 Facebook | SoundCloud | Twitter
This coming Monday, Black Butter will be making their first official foray in the birthplace of techno, Detroit, with its party on Monday, May 25th at Populux, where Gorgon City, Kidnap Kid, MK b2b Lee Foss, Dantiez Saunderson, Loud Luxury, and Admn will all be gracing the decks. For a UK label, the significance of this is very special as it is a time to prove themselves in a place where dance music roots run deep, and fans are well educated in underground spheres and beyond. Rather than Black Butter's Detroit showcase being thought of as a judgement day of sorts, it's more of a display of artistry that can be enjoyed by the masses. In celebration of the party, we've put together a showcase to highlight the top talent that will be guiding the Populux crowd to underground dance music enlightenment. Check it out below and grab tickets to the party here.
• Gorgon City
• Kidnap Kid
• MK
• Lee Foss
• Dantiez Saunderson
• Loud Luxury
• ADMN
Hear more from each artist after the jump!
READ ON >>
Posted by GMONEY on May 17, 2015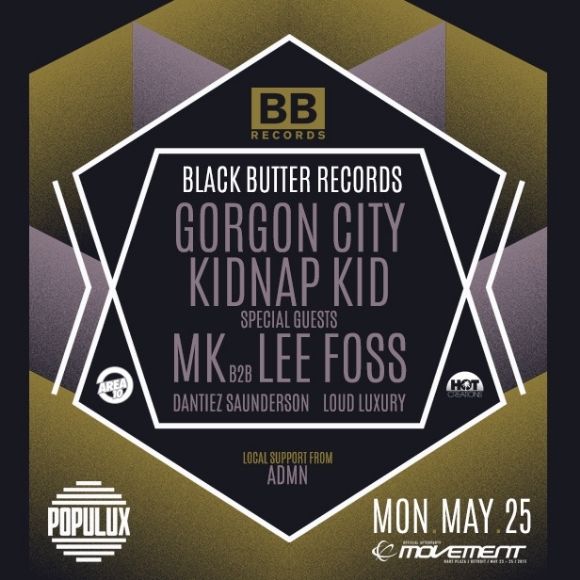 Facebook | SoundCloud | Twitter
The Black Butter roster is nothing but knee-deep in talent. Kidnap Kid, Gorgon City, Clean Bandit, Rudimental, Jessie Andrews, and more all make up the elite roster of talent, and the UK imprint continually push the boundaries with every release they take on. This year's Movement Music Festival in Detroit already has a lineup overflowing with dance music talent that will ensure three days of incredible music, but Black Butter looks to extend the party a little bit longer with their official Movement Music Festival AfterParty on May 25th at Detroit's Populux. Gorgon City and Kidnap Kid will hold the infrastructure for the event, but Black Butter has also pulled in a legendary B2B between MK and Lee Foss. It's going to be tight. You can grab tickets here.
Posted by Adrego on November 21, 2014
TheFuture.fm, a new leading platform for streaming DJ mixes and live sets curated by the world's top DJs, is bringing you the soundtrack to your weekend once again. TheFuture.fm continues their Weekend Boogie mix series by giving us the exclusive on this firing mix from Tony Quattro. This NY-based future star has been flourishing with his trademark bass-centric sound, and he now delivers a diverse mix that features tracks from Doctor Jeep, Kidnap Kid, Stanton Warriors, Mak & Pasteman, and of course, Tony Quattro himself, among others. Have a listen to the mix and have a great weekend!
DO SOMETHING