Posted by Juicebox on November 22, 2016
Facebook | SoundCloud | Twitter
Callie Reiff made her first splash in the dance scene when she earned a nod from Skrillex on her insanely heavy bass mix for his NEST HQ platform. Unleashing a number of originals, a couple remixes, and a full-fledged EP on Fool's Gold, the NYC native has also been rising on the live end supporting the likes of Big Gigantic, Jauz, Madeon, and even going back-to-back with Mija. To round out the year, Callie Reiff uploads a new mix that could be her most impressive and aggressive to date. Featuring flavorings from Sam Gellaitry, Bixel Boys, Space Laces, and more, Reiff also sneaks in multiple IDs from ATLiens, QUIX, and herself. Check the full mix above and download here.
Tracklist:
01. RL Grime, What So Not, Skrillex – Waiting
02. GTA – Dhalsim Money
03. Bro Safari – Scumbag (Aero Chord Remix)
04. Baauer – Kung Fu ft Pusha T & Future (Promnite Remix)
05. Bok Nero – No Problems (QUIX Remix) [unreleased]
06. AVANCE – Yacht Yacht
07. Callie Reiff & Ronaissance – Tin Machine (ATLiens Remix) [unreleased]
08. Alison Wonderland X Getter & Adair X Havok Roth – U Don't Thorns (Callie Reiff Edit)
09. Jay Z X Porter Robinson & Ekali – Higher / Fellow Feeling (Ekali MegaMash)
10. Flosstradamus – Roll up (Baauer Remix) [Infuze Re-Roll]
11. Footsie – Work All Day (G Jones Remix)
12. A TRIBE CALLED RED – Sila (feat Tanya Tagaq)
13. Callie Reiff – Shadow Dancing (Havok Roth Remix)
14. EMPYREAN TEARS – Rave Tool 41
15. Rustie – Big Catzzz (Porter Robinson Edit)
16. MssingNo – XE3 (Wheathin Turn)
17. Flume – Wall Fuck (william edit)
18. sam gellaitry – long distance
19. TWRK – Helicopter (STFU Remix)
20. Ta-ku & Wafia – Love Somebody (Mr Carmack Remix)
21. Bixel Boys – Ain't Your Girl
22. Justin Martin – Ardalan Ft. Party Patty – Function VIP
23. Skepta – Numbers (feat. Pharrell Williams)
24. Dillon Francis & NGHTMRE – Need You (NOAHPLAUSE BOOTLEG)
25. Sir Mix A Lot, Skrillex, & Must Die! – Baby Got VIPs Back (Joey Illness Flip)
26. Basstrick – Ghost Buster
27. KANDY & Callie Reiff – Jawbreaker
28. Quadrant Beat feat. M.I.A – Bucky Done Gun
29. DISTRO – The Drum (feat. Dread Mc)
30. Flume – Say It feat. Tove Lo (Anna Lunoe Remix)
31. div/div – Shutdown
32. Excision X Space Laces – Throwin Elbows
33. Space Laces – Bugbass
34. Barely Alive x Twine – Smash!
35. Tucker Kreway – ID [unreleased]
36. Wuki – Make it Clap (feat. Dances With White Girls) [BUSTED by Herobust]
37. Awoltalk x Callie Reiff – ID [unreleased]
38. Debroka – Marathon
39. Beyonce, NGHTMRE, & SLANDER – 7-11 (J Espinosa Warning Bootleg)
40. Nonsens – Gotta
41. Kayzo – Born Again (Callie Reiff Remix) [unreleased]
Posted by BP on February 6, 2014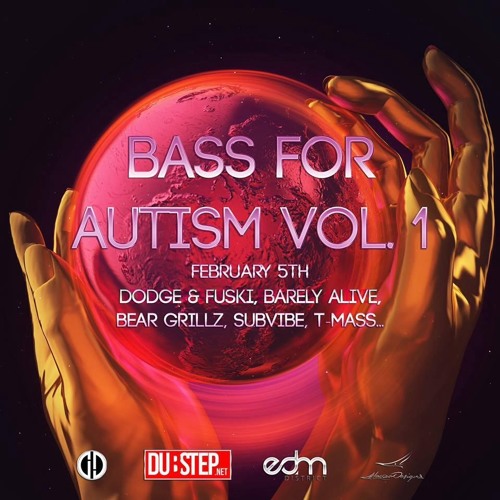 Bass for Autism consists of two parts. First, an online music festival hosted on Mixify.com. Second is a compilation of tracks from various bass heavy artists to support the cause. Some featured artists are Dodge & Fuski, Barely Alive, Bear Grillz, Subvibe, Fractal, T-Mass, and more. The compilation can be downloaded for free on Facebook, or downloaded for $9.99 on Bandcamp. All of the proceeds go to support autism research at the Organization for Autism Research. The tracks range multiple genres, but all bring the bass. I've posted just a few songs below. A great cause and awesome tracks? How can you resist?