<!– This sets the $curauth variable –>
Seven Lions with Myon & Shane 54 Ft. Tove Lo – Strangers
Posted by J-Tiffy on August 25, 2013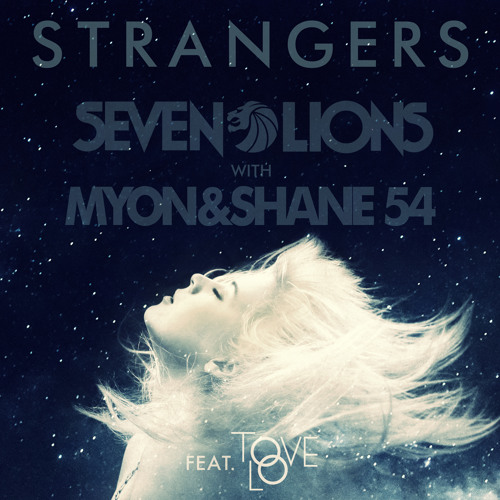 Seven Lions fans, rejoice! My eyes light up whenever I see Seven Lions' name, and if you're like me, you'll be itching to dig into this tune if you haven't already. He tackles this project with vocalist Tove Lo and house/trance production duo Myon and Shane 54. The song is part of the original motion picture soundtrack for Mortal Instruments: City of Bones. It is an immensely ambitious track, even for a revolutionary artist like Seven Lions. Not only does it combine his signature cocktail of trance and dubstep, but we can hear a lot of house elements in the mix and, more interestingly, a heavy reliance on a gnarly minimal electro drop.
I love Seven Lions' music, and have even dug into archives to discover and love the music that he put out under his name; Jeff Montalvo. I have been a fan for a long while, and as such I have exceptionally high expectations for his work. When I listen to a song that he puts out, I expect it to reach into my chest and get a five fingered grip on my heart like so many of his songs have done before. I expect to be blown away by the perfect relationship that all of the elements in the song seem to share, and I expect the song to be like nothing I have ever heard before. That's not asking to much is it? No pressure Jeff.
Those are humungous expectations, I know, but he has set the bar for himself by making music of that caliber with every release. Unfortunately, I don't get those old feelings of awe from this release. It sounds more generic than what I'm used to hearing from him. The electro drop – although well produced, and fitting at the beginning of the track – seems too abrupt on its second appearance; it feels misplaced. The classic Seven Lions rolls, stutters, growls, blips and screeches are present in the dubstep segment, but they sound too safe. These techniques don't seem as creatively used as I'm accustomed to hearing.
The impression that I get from this song is that the production team spread themselves a bit too thin. They bravely attempted to bring together a multitude of music styles, but in doing so they took away from some elements that I would've liked to hear more emphasis on. By leaning more towards the house side of things, and by bringing the electro drop back so suddenly after the main phrase of the song, some of the Trance soul was lost. With the dubstep section relying on the soul of the song, it too lost something in the mix.
The song is definitely good, and I fully recommend a listen. I think it hits the right buttons – as well as having the right exposure – which give it a chance to become hugely popular. My opinion is that most of these elements in this project are executed very well in their own right, but as a package, this song will not be going down as one of my favourites.
iTunes: Seven Lions with Myon and Shane 54 (Feat. Tove Lo) – Strangers

Tags: artist, drop, dubstep, Electro, Feat, house, House Trance, music, picture, production, project, Seven Lions, song, Tove Lo, track, Trance, work