Posted by VMan on December 27, 2017
Facebook | SoundCloud | Instagram
The Germans always know how to make a scene, and the debut single "Fuck the Pain Away" from Championsleak is a dark rnb dance record that promotes promiscuity, to get over it. Championsleak is a production duo that has produced and written for the likes of French Montana, Tinashe, Chris Brown, Tove Lo, Fifth Harmony, Era Istrefi, and more. After years of writing for other's, they've launched their own artist project, and as you can probably tell with the title, they're not taking any prisoners. Stream their latest on Spofity above, and follow the guys for new music. This is a must listen!
Posted by mimada on August 14, 2013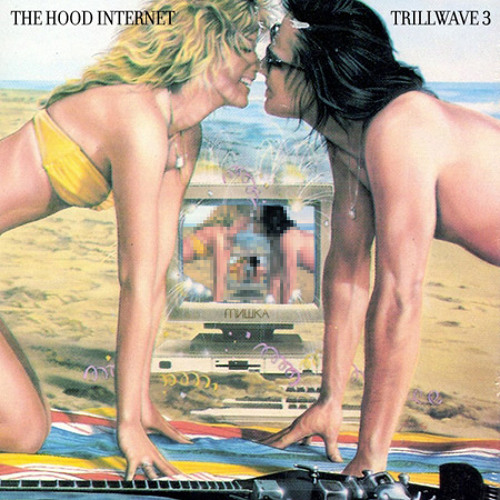 Ahhhhhhh could not be more excited to share the latest release from The Hood Internet. So they've got this thing called Trillwave, which is basically a seamless, sensual, and poetic synthesis of popular hip hop vocals over chill, indie instrumental counterparts that make you wonder, Why weren't these jams paired up before…? And the third installment of Trillwaves does not disappoint. MISHKA really hit the nail on the head by describing Trillwave as the type of mixtape for "when you have to entertain a mixed crowd, or if you need to take a long drive with someone who doesn't worship at a temple for 808s for church bells." And, in accordance with the rising trend, Trillwave 3 features quite a few subtle tributes to the sweet and sexy R&B of the 90's. Oh, radical baby.
You can, and absolutely should, download the previous Trillwaves straight from The Hood Internet's website here. And catch the tracklist after the break, especially my favorite pairings including Kanye West vs Daft Punk, Miguel vs RL Grime and Kendrick, Drake, and Giraffage.
LIVE FOR THE TRILL.
FACEBOOK || SOUNDCLOUD || TWITTER
Posted by jeffwbaird on June 2, 2013
This kid has been around for awhile, but honestly I was just never compelled enough by what I had heard of him on features to give him a full listen. Last week he released his major label debut in the form of a six-track EP, Almost Home, which features the likes of Wale, Meek Mill, Rico Love, and French Montana, and after seeing that his song "Money and the Power" was getting a fair amount of praise, I decided to check him out. This is by far my favorite song off the project — it has an incredibly upbeat, catchy, and pop-oriented beat produced by N4 and longtime collaborator Ned Cameron, and Kid Ink has enough lyrical chops and charisma to win me over. He also, unexpectedly, has a pretty good singing voice. Take a listen below, and if you're interested, you can find his full EP on iTunes here.
DO SOMETHING
Posted by Jess on December 9, 2012
PropaneLv gets back on his urban tip with his latest cover of the Ross, Wayne & 2 Chainz assisted French Montana banger "Marble Floors". A melodic hook, nice bars, and hard beat come together very nicely on this one.
Posted by GMONEY on October 16, 2012

Damn, this mixtape goes HAM. Pittsburgh's own Wiz Khalifa killed "Cabin Fever 2". Just like the original, the beats are out of control, with producers like Sledgren, ID Labs (Wiz's favorite), The Invasion and Crazy Mike throwing down bass-filled bangers. The features are what you would expect, Juicy J on 5 tracks, Problem on 3 tracks, Chevy Woods, French Montana and more. If you're looking to bump some songs in your car, look no further than "Ridin Round", "Smokin Drink", "MIA" or "Tweak is Heavy"; if you want some light ish to chill too, check out "Deep Sleep" and "Pacc Talk", and if you need to bust a move throw on "Bout Me". Cop the whole mixtape below and check out Wiz Khalifa's Facebook page for updates.
DOWNLOAD: Cabin Fever 2 (Mixtape)
Posted by Jess on August 9, 2012
Styles&Complete comes through with an incredibly nasty Trap bootleg of French Montana's "Pop That". It was only a matter of time before Styles&Complete got on the Trap tip and as expected they do it well. The bootleg also features the old school original sample from Uncle Luke's "I Wanna Rock/Doo Doo Brown". Download it for free below.
Posted by LoffyG on August 6, 2012
The kid Paul Markham is back to drop a few bars over French Montana's "Pop That". This is just a little warm up for what Paul has to come within the next couple of months. Be on the lookout for some all original work that will be accompanied by music videos. Also at the end of the track he says Vocabulary coming soon, the name of his next project. Follow him on Facebook & Twitter for additional updates!